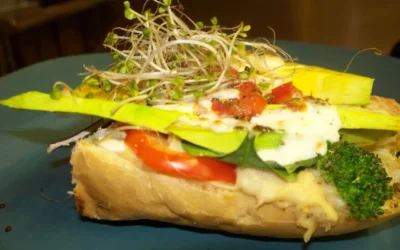 Amazing Avocado and Hummus Sandwich Melt   This was a super popular sandwich we served at our restaurant, kinda makes you want to lick the screen!This sandwich is served on Italian bread but is just as good on a whole grain or sourdough bread! We took this picture...
read more
What is "The Splash?"
Two Hundred years ago in the Canary Islands, Miriam Vigoa's Great-Grandmother created the Original Canary Island Garlic and Herb Olive Oil recipe. In 1995 Miriam Vigoa harmonized her own version of the recipe using organic garlic herbs, Celtic Sea Salt and spices with extra virgin olive oil to create "The Splash" for her business partner, Kristi Linebaugh, to cook with at their Award Winning restaurant, Cafe Latte Coffee House Bistro, in Winter Haven, Fl. 33884. The Splash is perfect for Diabetics and has No preserrvatives and No additives, No Sugar, Low sodium (15mg) Perfect for Celiacs (Wheat Free Gluten Free), also No GMO and No MSG, No Canola Oil and No Nuts or Seeds
Time Tested and Customer Approved
Kristi Linebaugh and Miriam Vigoa have used the Canary Island Garlic and Herb Olive Oil, "The Splash" at their restaurant Cafe Latte for the past 15 years (Cafe Latte is the Oldest Coffee House and Eatery in Polk County). "The Splash" is used in every recipe from Chicken and Yellow Rice, Black Beans and Rice, the 3 minute Shrimp Scampi recipe, to the 5 minute Roasted Tomato Feta Spinach Pizza Recipe to the Curry Chicken and Cranberry Wrap Recipe. It was the customers that finally talked Miriam Vigoa into bottling "The Splash", so they to could use it at home.
"Simple Recipes" for the Busy Family
The Canary Island Garlic and Herb Olive Oil "The Splash" is so Simple to use! We help you feed your family the Healthy Meals they deserve, without extra work for you. We specialize in "Easy Recipes" for the Busy Family. We offer you Time Saving Tips, teach you how to disguise leftovers, share our "Insiders SECRETS" to the Shake and Splash cooking method. If you desire to make your Family the Healthy meals they deserve without the work, simply click the "Simple Recipes" Skillet and enter your Name and Email and I will send you a simple recipe right away so you can get started. Do it right now and your life just got a whole lot Simpler! Miriam Vigoa signature (creator of the Canary Island Garlic and Herb Olive Oil)
---
If you have other delicious recipes you would like us to make into 7 minute recipes just e-mail me and I will be happy to do a little Canary Island Garlic and Herb Olive Oil magic on them.
See you at Dinner,
Kristi Linebaugh