Grilled Sausage with "Splash" Roasted Vegetables
This recipe comes from Debbie in Oro Valley Arizona.
Preheat oven 400˚
Spread prepared vegetables onto two baking sheets, pour approximately 2 TBSP of Splash over each pan of vegetables, sprinkle with salt and pepper.
Bake for about 30 minutes or until caramelized, flipping vegetables after 15 minutes.
Meanwhile grill the sausages on your outdoor or indoor grill top until nice grill marks are achieved and are cooked thru. Let rest, and then cut into bite size chunks. Combine the sausage with the veggies, pour over half of the vinaigrette and toss to coat all. Serve remaining vinaigrette with a tossed green salad.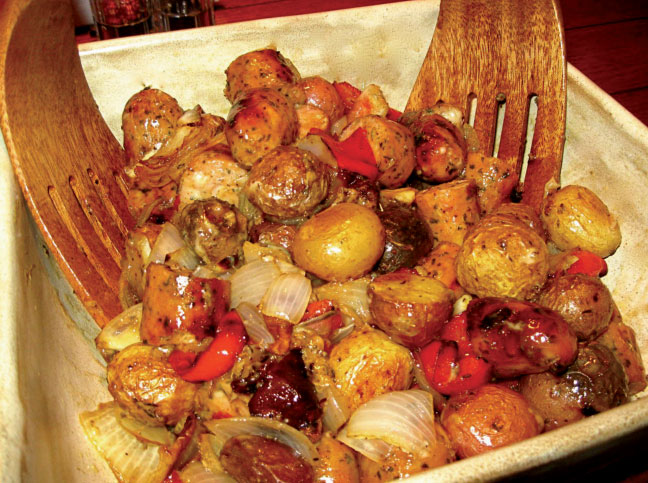 Ingredients
18 oz Tender Skins Baby Potatoes (red, purple and white) cut into bite size chunks
2 onions cut into chunks
2 Red Peppers cut into chunks
( to add another vegetable – mushrooms, sun-dried tomatoes – your choice)
4-6 Garlic cloves, peeled and sliced
Original Garlic and Herb Splash
Sea Salt and Pepper to taste
6 3oz Sausage of choice I used Chicken Artichoke, Mozzarella and Garlic