Our Famous Black Bean Soup
Black bean soup recipe so easy and delicious. Our restaurant customer's favorite!
Miriam: We will skip the story about the black beans on the ceiling will you?
Kristi: Ha ha yes I will skip it for now although it's very tempting I have to tell you! Maybe in our next book.
Miriam: Good idea.
This recipe is a 20 minute miracle. Done in a pressure cooker. And can be adapted quickly for a salad or spicy black bean hummus.
Miriam: I think you're really going to enjoy this recipe it's savory without being full of salt.
Kristi: Our restaurant customers loved our black bean burritos made with these beans as well as our black beans and rice salad.
Thanks for joining us today check out our Facebook page to get live show updates and more recipes. www.facebook.com/vigoacuisine 
Talk soon,
Miriam amd Krist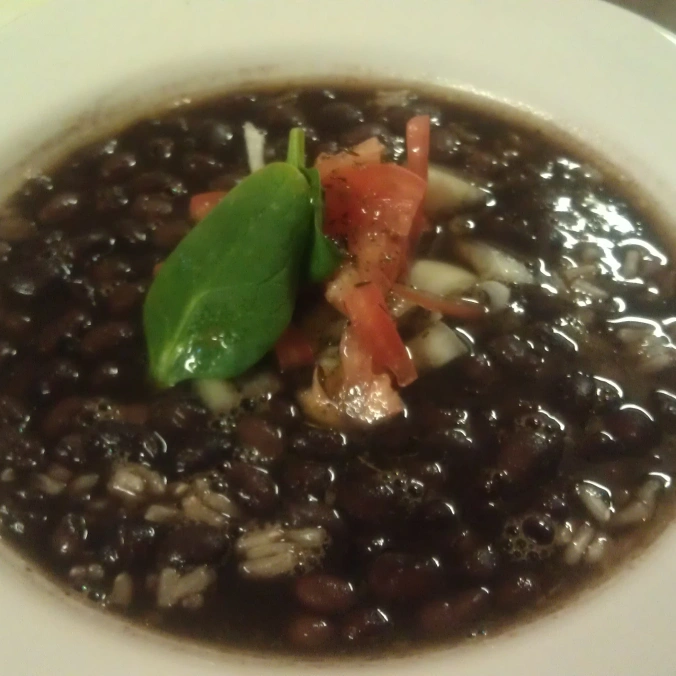 Ingredients
Pour a 16 0z bag of black beans in a bowl rinse and pick out any stones. Soak 2 hours.

Add beans to pressure cooker add 4 cups of water and  2 garlic cloves.

(Miriam: I also like to blend up a 1/4 onion, 1/2 green pepper and 1 tomato… and add to beans… part of my mom's secret recipe!)

Place lid on and turn on high.

 The pressure release will jiggle slowly and when it jiggles fast, turn down to 7 or medium-ish and cook 5 minutes.

 Turn burner off and leave on burner to let cool until pressure is gone.

 Add 2 tsp of Braggs Liquid aminos, pinch of Celtic Sea Salt and 3 T of Canary Island Garlic and Herb olive oil.

Serve with thin sliced onion and tomato on top drizzled with more Canary Island Garlic Herb Olive Oils….mmmh… delicious!