Curry Lentil Soup
This is a great soup when you're in the mood for quick and easy with a little veg! (inspired by George Matlajan)
**Chef Secret for bean and legume cooking**  Add strips of seaweed to the beans. The seaweed helps digestion. Who knew? Our restaurant customers always appreciated it!
A.) Rinse lentils and set aside.
B.) Chop onions and garlic and let sit 5 minutes to allow the allicin to form, (healing good stuff) 
C.) Put all the ingredients except the kale and the cilantro in the add to the slow cooker and turn on High.
D.) I always boil the water before I put it in the slow cooker, it cooks way faster that way!. Add water
E.) After 40 minutes turn on low and toss in the kale and the cilantro and 10 minutes later you are ready to roll!! I like to add a couple of dashes of Braggs Liquid Aminos on top and stir in for a bit of savoriness or a couple grinds of Celtic Sea Salt from Selina Naturally.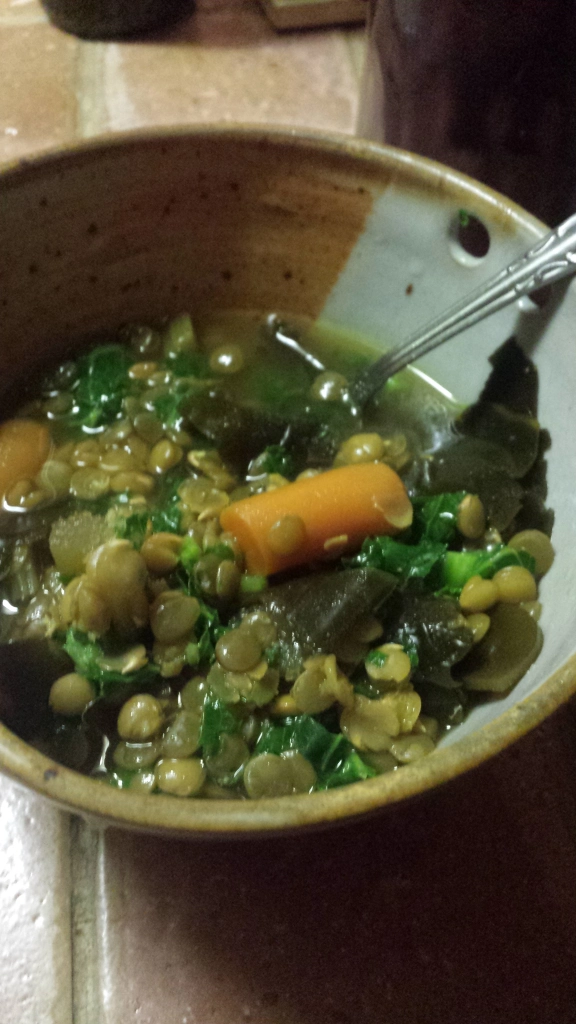 Ingredients
   1 cup of green organic lentils

    4 cups of boiled water

    3 Tablespoons of Canary Island Garlic Herb Olive Oil

    1 small to medium sweet onion chopped

    8 baby organic carrots chopped in half

    3 small or 2 large celery stalks chopped

    2 cups chopped organic kale   

   1-2 Tsp of yellow curry powder

   1/4 inch knob of ginger sliced thin and chopped

   1 handful of chopped fresh cilantro