Gourmet Quiche
1 hour or 7 minutes – You decide!
This delicious recipe comes from Cindy and was originally seen on Simply Recipes. We did a little magic on it with the Canary Island Garlic and Herb Olive Oil an converted it into a 7 minute recipe!! Feel free to do the original recipe (55 minutes + chopping veggies) or if you are in a RUSH…… use our 7 minute recipe.
Melt the butter in a medium saucepan on medium heat. Stir in flour; cook, stirring until bubbly. Gradually add the milk;cook over medium heat, stirring occasionally, until sauce thickens. Remove from the heat; set aside to cool, about 15-20 minutes.
2. Preheat oven to 350 F. Combine cottage cheese, baking powder, salt and mustard; set aside.
3. Beat the eggs in a large mixing bowl. Slowly add the cream cheese, the cottage cheese mixture and the milk/flour sauce. Fold in the swiss and parmesan cheeses.
4. Pour into a buttered 10″ pie plate. Sprinkle the top with chopped green onions and crubled bacon. Arrange tomato halves, cut side up, around the toop. Bake at 350 F for 40 minutes, until puffy and lightly browned. A knife inserted into the center of the quiche should come out clean. Let rest for 15 minutes, serve.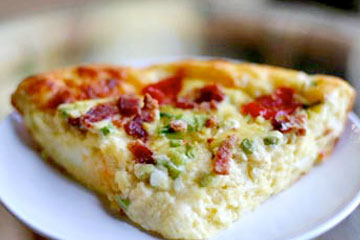 Ingredients
• 1/3 stick of butter
• 1/4 cup all-purpose flour
• 3/4 cups milk
• 1 cup cottage cheese
• 1/2 teaspoon salt
• 1/2 teaspoon Dijon mustard
• 5 eggs
• 4 ounces cream cheese, softened
• 6 ounces shredded Swiss cheese
• 3 Tbsp grated Parmesan cheese
• 1/4 cup chopped greens onions
• 3 slices of cooked bacon, crumbled
• 6 cherry tomatoes, cut in half
A. Put Canary Island Garlic and Herb Olive Oil in pan and add eggs, scramble & top with swiss and parmesan. Turn off heat & cover.
B. Lay out a tortilla wrap, smear the center in straight line with cream cheese, and drizzle of dihon and top with scrambled eggs, onions, bacon and tomatoes. (keep all ingredients in middle of wrap w/ 1 inch clearance on ends to tuck in so you can roll it and the goodies don't fall out the ends.)
C. Tuck the sides of tortilla at the beginning & ending of egg line, roll tight, pop in toaster oven and enjoy WITH GUSTO!
Ingredients
• 2 Tbsp of Canary Island – Garlic and Herb Olive Oil
• 5 Cage free eggs
• 6 ounces of Swiss cheese
• 3 Tbs of grated Parmesan
• 1/2 tsp of Dijon Mustard
• 4 ounces of cream cheese,    softened
• 1/4 cup chopped green onions
• 3 slices of fake bacon    crumbled
• 6 cherry tomatoes, cut in 1/2